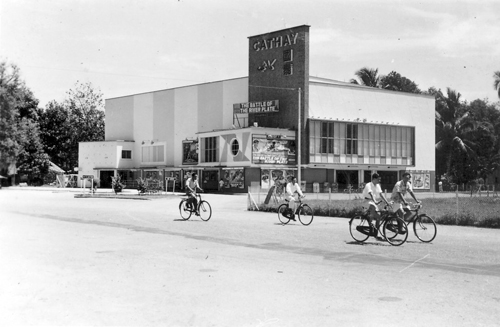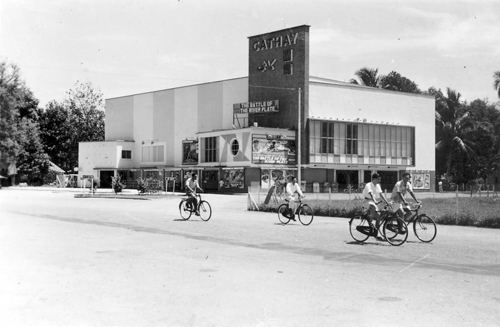 Ruth Rollitt was so incensed by the multicoloured Cathay that we featured, she sent us this photograph of how the Theatre looked when it first opened in those days of Movies and Mercedes. She included a newspaper article from 1958, the first part of which is inserted below. The whole article will appear on or database archive before too long. Unfortunately we received it to late to catch the movie! Did anyone out there see it?
"Special  Cathay Supplement
A Milestone in Cinema Entertainment
Ipoh's New Cathay Theatre
To build a luxury theatre in Ipoh has long been a wish of the Cathay Organisation. This is in keeping with their policy to provide the best that there is available in cinema comfort and entertainment.
Costing over $600,000 their new Cathay, Ipoh will be officially declared open by His Highness the Sultan of Perak, Raja Sir Izzudin Shah ibni Almarhum Sultan Abdul Jalil, KCMG, OBE, before a distinguished and cosmopolitan gathering at 8 pm tonight, the eve of  Chinese New Year.
Out of a piece of rubber estate land there has risen a handsome steel and concrete structure housing one of the best equipped theatres in the state of Perak.
Among the guests who will attend tonight's opening ceremony will be State and Town Councillors, community leader, heads of Government and other personalities.
Cathay Organisation personalities include Mr Loke Wan Tho, Head of the Organisation, whose inspired leadership and farsightedness has provided Ipoh town with the handsome and imposing entertainment landmark.
Mrs Loke will accompany her husband and Mr John Ede, Director and General manager of the Cathay Organisation will also be present.
This new theatre – a worthy acquisition to the large number of theatres already controlled by the Organisation – was designed by Mr B M Iversen, the well-known Ipoh architect."
More about the Cathay can be found here.