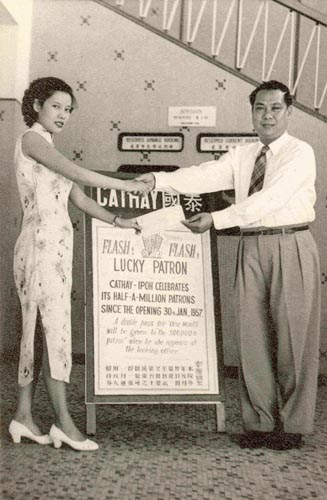 Back in the 1950s, cinemas were a popular (probably the only) source of entertainment – television sets were not common and not everyone had a radio either! Hence, the cinema-experience was a real treat – especially for the little ones!
We received an interesting e-mail from Ignatius Chiew, regarding the 'soft' opening of Ipoh's Cathay Cinema.
From the picture, we see the Lucky Patron (patron No. 500 000) receiving her double pass (for 1 month) as she arrives at the booking office. According to Ignatius, Cathay opened its doors to the public on 30th January 1957 – the eve of Chinese New Year – which was considered an auspicious day for business. Incidentally, Ignatius' father was then the (first) manager of Cathay cinema.
Does anyone know WHEN exactly the half million patron mark was reached? We would like to know the date, and probably any other extra bit that you may know…..maybe someone might even know WHO the pretty lady in the picture is!