Dad has only a primary education. Without a stable job, it is difficult to feed a large family. We have already pawned whatever that can be pawned. We were close to living in poverty.
Finally, Grandma let out the front portion of #188 to a couple who turned it into a mahjong parlor.  Many whores, massage ladies, bargirls, pimps, hawkers, taxi drivers and housewives came in for several rounds. It became a very noisy place, sometimes extending into the wee small hours. Many times fights broke out and the police were called in to break them up. What was once a home to us suddenly became a vice den filled with cigarette smoke and vulgar languages.  Sometimes we could not even hear our own voice with all the noises around us.
We kept to ourselves, spending our time mostly upstairs but it was already filled to the brim with tenants. There is hardly any space left for us to study in. This was the last straw for Dad. In a fit, he kicked all the mahjong players out and took back the shop for us to study in peace.
In his early days, Dad was trained in a mechanical work shop in Batu Gajah before the Japanese invasion interrupted his apprenticeship.
 He quickly got hold of some motor parts and assembled them into something you see in these pictures. I really do not know what to call it. There is no name for it. We simply called it "the motor".  It was this device that gave our family hopes again. More importantly, it put food on our table and saw all of us through school.
You see, with this device, Dad started another business. He cycled to all the tailor shops, hair salons and garment  factories in Ipoh town, offering to sharpen their scissors.  In the beginning, business was quite scarce. Nobody would trust him with their cutting tools. After all, he was just a new kid on the block in this trade.
There were some established ones in town. There is one at Cockman Street, next to the shop that sells joss sticks and paper offerings. Others operated along back alleys in the old town area, doing their business long before my Dad appeared in the picture.
However, with patience and skill, he soon won them over. Before long, they discovered that the sharpness lasts longer compared to those done by others. Moreover, Dad charged the same like the rest, RM1 for a pair. Within 2 years, he managed to build a base of regular customers.
He even painted his own signboard and put it in front of the shop every morning before he started work. I remembered it was a big scissors with a light blue background. The blades were painted in silver while the handles were in black. It was just a picture, without words.
Dad used sharpening stones or whetstones to sharpen the scissors.  Some came in the shape of a small circular wheel which was fixed to the motor. Others were simply blocks of rough or smooth stones.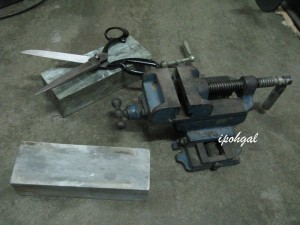 They were used separately or in combination, depending on the size, length and quality of the scissors. Normally the bigger, longer and superior blades were sharpened using the motor while the smaller, shorter and inferior ones were done by hand only, to prevent them from breaking.
Yes, the blades can break under intense pressure! I have seen this before and in the end, Dad has to compensate his customer with a new pair of scissors.
To sharpen a pair of scissors, Dad unscrewed the bolt and nut to separate the two blades. Dipping the scissors and sharpening stone into a pail of water to make them wet, he would slide the beveled edge on one side of each blade against the stone.  He has to slide the entire length of the blade many times before the scissors is sharp enough to be oiled and screwed back.
Sometimes it took 2 or 3 hours to sharpen one and sometimes, in less than half an hour, depending on the scissors. He also sharpened kitchen knives and all kinds of cutting tools.
It was hard work. It was a one man show. With so many scissors to be sharpen and everyone wanted it done quickly, Dad has to work from morning till night, standing on his feet. He could not get the work done sitting down because, to slide the blade, he needed to use force.
Therefore, his feet would get swollen by the end of the day. His hands numbed and his back pained by the many hours of bending over the work table. Sometimes he accidentally cut his fingers and bled. With a bandaged hand, he continued with the work because he has datelines to meet and many mouths to feed.
Many customers told Dad he was the best scissors sharpener in town. They wanted him to sharpen their scissors in the quickest possible time. Of course Dad could not meet their demands because he has so many scissors waiting for him to sharpen. It is piling up by the day.
"If you wanted it to be sharpen quickly, then please go to other scissors sharpener. Here, you have to wait longer as you can see the pile of scissors and I am doing the work alone!" he could AFFORD TO SCOLD his customers. Many were fearful of him but they loved his skill.
In the end, they meekly gave in and left their cutting tools with Dad. Many bought extra scissors to use while waiting for Dad to sharpen theirs. They preferred to wait for several days rather than go elsewhere. They knew they left their tools in good hands. Throughout all the years, no customers complained about Dad's work, except that he was rather fierce when pressured!
When I was in Std 6, some foreign tourists past by Dad's work place which was at the back portion of the shop. They were fascinated to see such a trade done in a traditional manner and decided to video and photograph him as he goes about doing his work.
Many people in the neighborhood called Dad "Scissors Sharpener Uncle" and Mom "Scissors Sharpener Aunty". When I took taxis in front of Rex Cinema, many taxi drivers who knew Mom and Dad even called me "Scissors Sharpener Daughter"!! LOL.
Dad toiled on until all his children finished school and were able to stand on their own. By then he was old and haggard, having slogged most of his life. As a result of working too hard, it put a toll on his health. His heart became weak, his hands stiff with arthritis and his legs from rheumatism.
Dad retired in 1996 after 25 years in this business.  He spent the remaining years nursing his health and staying home resting after working hard most of his life.
This article is a tribute to Dad, a very determined man who believed in nothing and no one, except his own pair of hands and who overcame all odds that life threw into his path, without any help from anyone. I am very proud of him.
I am still keeping this motor with me as a remembrance of Dad who was once a very skillful scissors sharpener in Ipoh. It is a waste that his hand painted signboard became rusty after 25 years and he threw it away when he finally called it a day. But he gave me a pair of scissors and a few whetstones to keep as well.