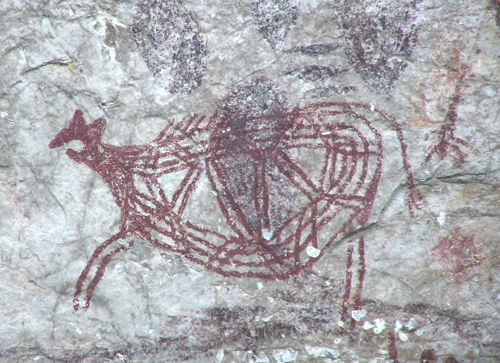 The International Day for Monuments and Sites (informally known as the World Heritage Day) was created on 18th April, 1982, by ICOMOS and later approved at the 22nd UNESCO General Conference in 1983. This special day offers an opportunity to raise public's awareness concerning the diversity of the world's heritage and the efforts that are required to protect and conserve it, as well as to draw attention to its vulnerability.
Casting our mind around Ipoh and its heritage of which we have so much – most of it vulnerable- we selected the cave paintings high up on the cliffs above the Tambun road as our item to draw attention to on this special day. The photograph shows just one of the drawings of animals and men.
At least 5000 years old and the finest set of prehistoric paintings in Malaysia they certainly need protection and conservation, but since they were discovered in 1959 they have been almost totally ignored by those who should care.
So today's the day for you to do something about it. Raise a petition, write to your MP or draw attention in some other way to our failing to preserve this heritage. At present there are still enough paintings to prove that long before the history of the Malay Peninsula was written, there were primitive men living in Lembah Kinta, who illustrated the environment surrounding them, but they won't be there much longer unless drastic action is taken!
Do it now! Action speaks louder than words.