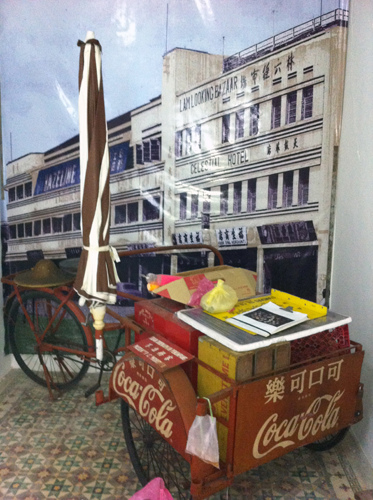 This photo was taken about two weeks ago and it is one very small corner of the whole exhibition. Today, now that the remedial work is done to this particular display it is a great place to record your visit to this famous house. It is just one such photo-spot of many. Found in Falim, this tricycle used to ply the local roads of Ipoh and Menglembu selling Coca Cola. Does anyone remember it? Did you buy the ice-cold Coke from it?
The exhibition opens at 10.00am on Sunday 12 May, as published and will close at 6.00pm (last entry 5.00pm). It will remain open 7 days a week from 10.00am to 6.oopm,  until finally closing at 6.00pm Sunday 11th August.
The show will be opened by Y Bhg Dato' Haji Roshidi Bin Haji Hashim, Ipoh Datuk Bandar and there will be no admission before the formal opening. Some 400 guests will be invited but you are also welcome to attend.
There will be three vintage cars on display for the opening. If you would like to bring yours along please do so.
There will be a free shuttle bus service run by Tenby Schools Ipoh to bring visitors to and from Ipoh Train Station and Falim House during the weekends. The bus will depart from the train station at 10.45 am, 1.45 pm and 2.45 pm, and take passengers from Falim House to the train station at 1.15 pm, 2.15 pm, 4.15pm and 5.15 pm.
As there are many loose items on display we do not allow shopping bags or similar into the house. Please leave all bags and baskets in the car (ladies' handbags excepted).
One final point about cameras, phones and videos. We have deliberately set this exhibition up for you to have fun and take your souvenir photos with the artifacts and models, but we do not allow deliberate copying of photographs or the film. Take as many general shots as you like but if you cannot follow these simple rules you will be asked to leave the exhibition.
We hope to see you there.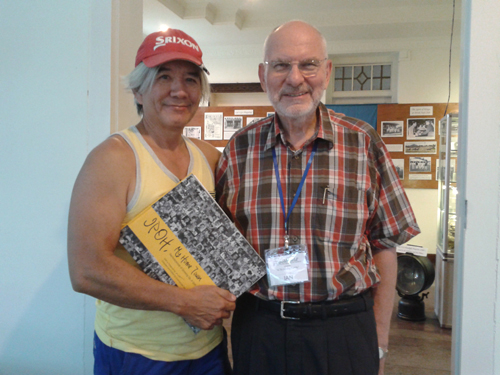 And here is Steve Oh (left), the Malaysian author from Australia in the exhibition.