Yes, at last Ipoh, My Home Town has gone to the printers.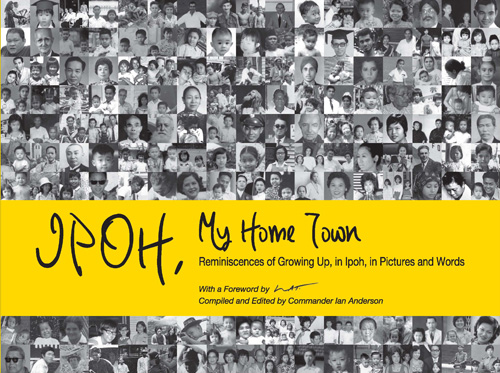 As you may know, I have been working on a new book for the past 20 months or so, editing and compiling original stories of people growing up in Ipoh over the last 90 years. It is entitled "Ipoh, My Home Town: Reminiscences of Growing Up in Ipoh, in Pictures and Words".  In hard cover 'coffee table book' format,  with colour on every page, there are 64 different stories from a broad spectrum of society encompassing all the main Peninsula Malaysian races, plus Caucasians and even an Iban. Together they represent Ipoh past and present.

There are stories from a "Flying Tiger" who grew up in Market Street in the 1920s, Professor Wang Gungwu, a Greentown boy before the war, Lat (who has also written the Foreword) and a number of others from stage, screen and radio plus of course successful businessmen and women, housewives and mothers, but interestingly, no politicians. Our oldest contributor is 92 and the youngest 12. The book therefore is really a history of life in Ipoh through the eyes of young people. With 276 pages and a wealth of original photographs and illustrations it has been a fascinating exercise for an expatriate, ably supported by his Malaysian wife.

The book will be launched by Tun Lim Keng Yaik on the morning of Saturday 17th September at the Royal Ipoh Club so if you can be in Ipoh that day that will be the place to be. Details of the programme and invitations will be sent out as soon as possible, but if you don't get one and would like to attend, please just let me know.

Regarding the price, as this is a self funded project we have been able to keep the price down to a bare minimum with no profit taking. Hence the book will be on sale in the bookshops at RM100 and direct from us at RM90 excluding postage and packing. There will be plenty for sale at the launch, but if you cannot make it then you can always pre-order via info@ipohworld.org , providing your postal address. We can then advise you of the total cost as soon as the book is in our hands. 

I look forward to seeing you at the launch.